Artificial Intelligence (AI)
Optimizing customer experience and employee efficiency with generative artificial intelligence (gen AI). A seamless omnichannel solution for self-service, chatbot assistance, and automation of tasks for Support, Marketing, and Sales teams.
Superpowers of Artificial Intelligence (AI)
Self-service

Customized bots

Machine Learning (ML)

Omnichannel

Chat, phone, email

Whatsapp and Facebook

Workflow Automations
Unified workspace

Customer Journey

Mobile App

Predictive Analysis

Multi-language support

E-commerce Integration

Marketplace
Marketing Automation

Marketing Campaigns

Response generator

FAQ Generator

Response Templates

Help Widget

Dashboards and Reporting
Engage with customers on their preferred channel
Engage with customers on their preferred channel. Revolutionize customer interaction and optimize employee productivity with generative artificial intelligence. Provide a seamless experience across any channel, whether through self-service or agent support. Whether through messages, live chat, email, or voice, be prepared to meet your customers' needs effectively and personally, enhancing the quality of service on all fronts.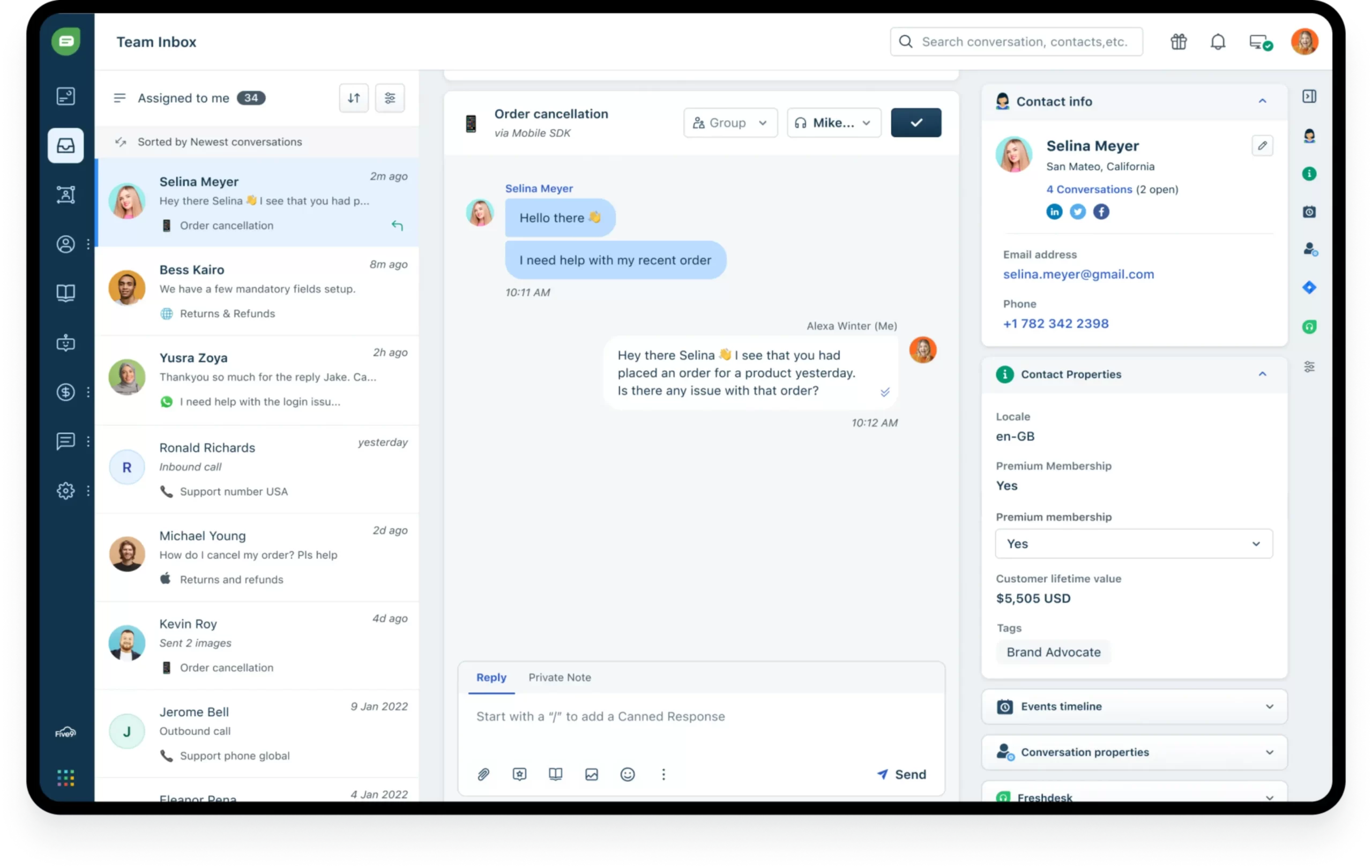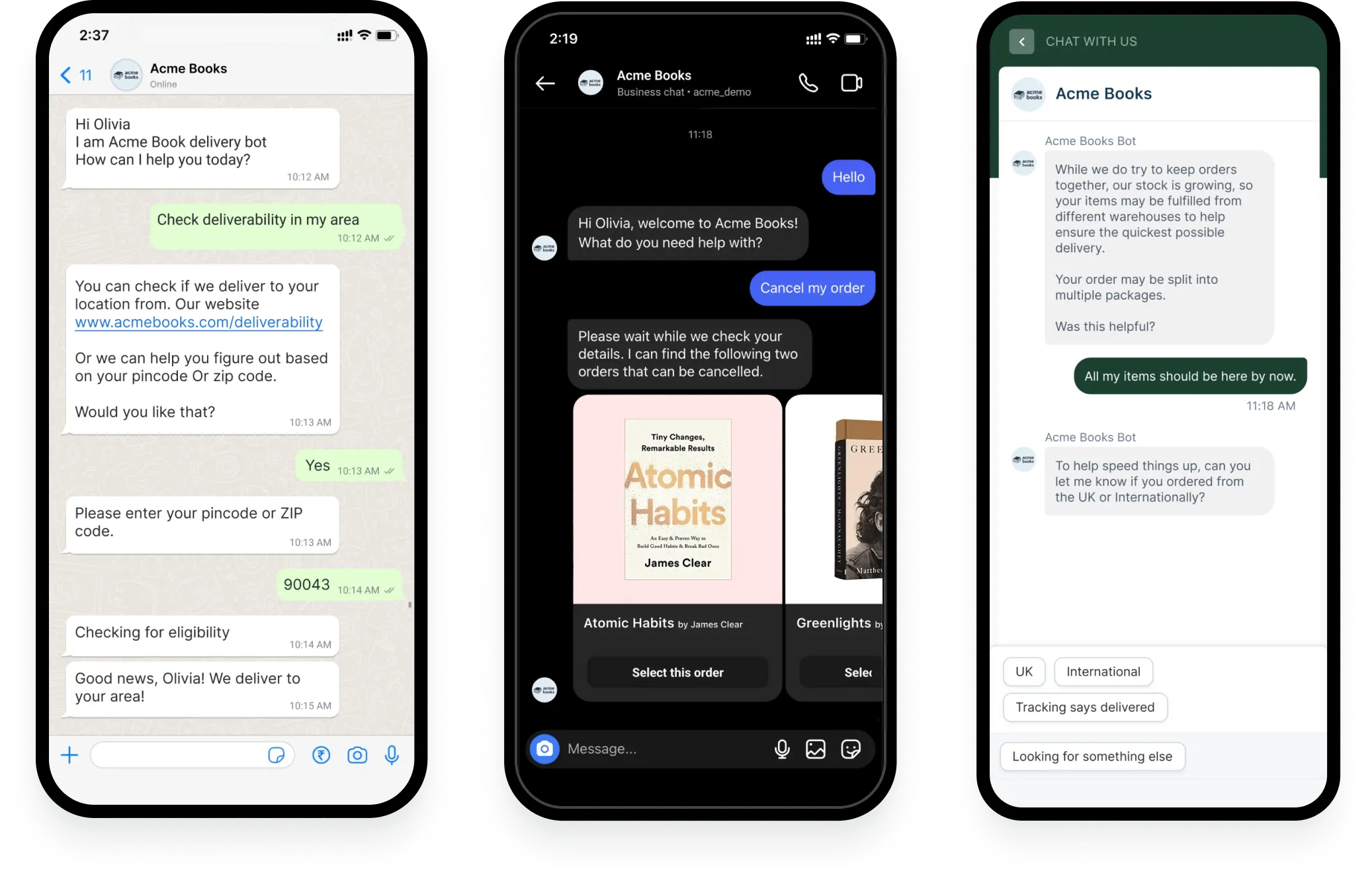 Provide scalable support with AI-powered bots on any channel
Empower customer assistance with advanced AI-driven bots across all channels. Provide effective self-service, delivering seamless experiences on your website, native app, and messaging platforms. Streamline interaction, optimize the customer experience, and enhance operational efficiency, ensuring exceptional support at every touchpoint.
Provide support agents with tools to deliver personalization at scale
Provide support teams with the necessary tools to offer large-scale customizations. Empower agents with the required context, simplifying the retrieval of details such as past purchases, outstanding issues, and interactions across all channels. Enhance efficiency, enabling personalized experiences and more responsive and informed customer service.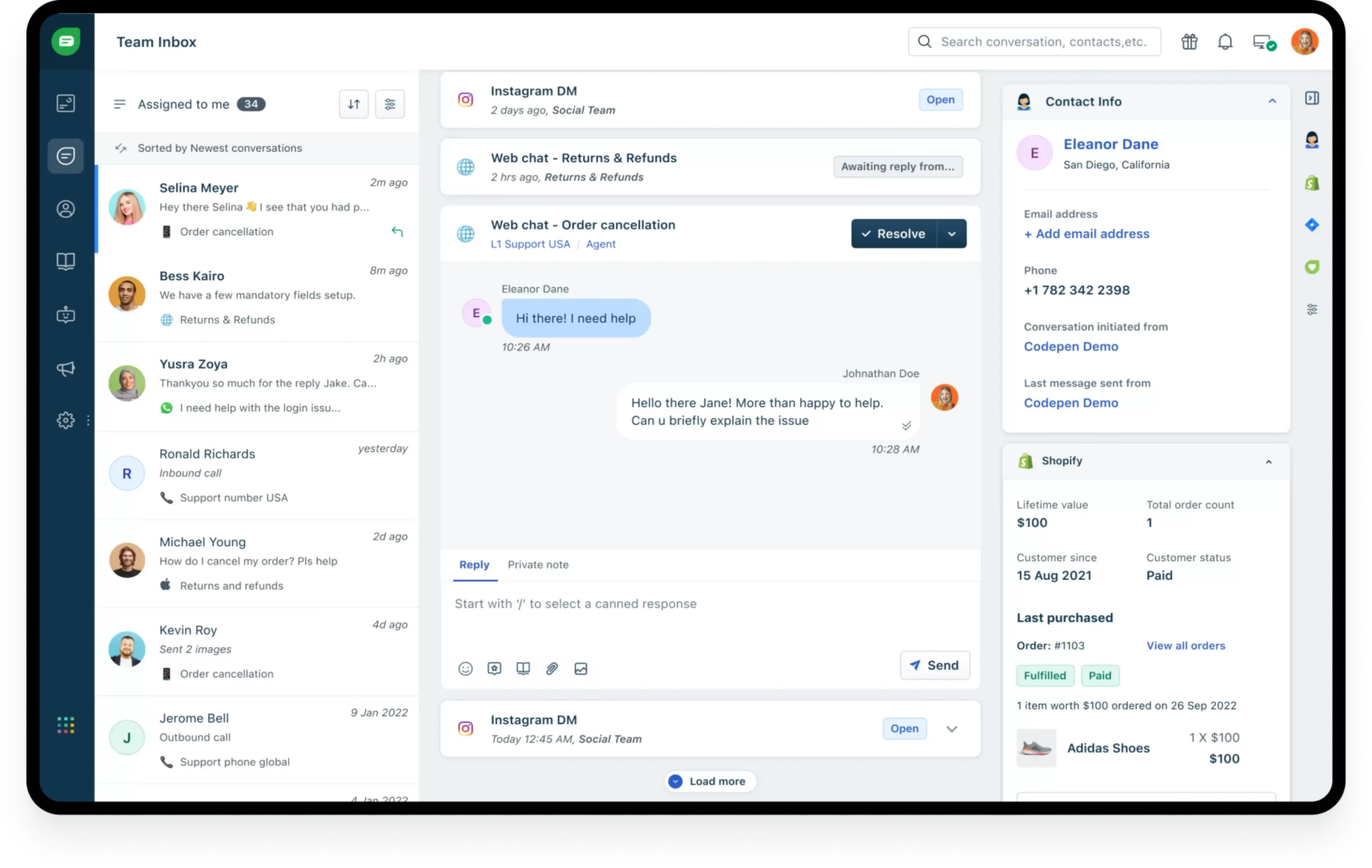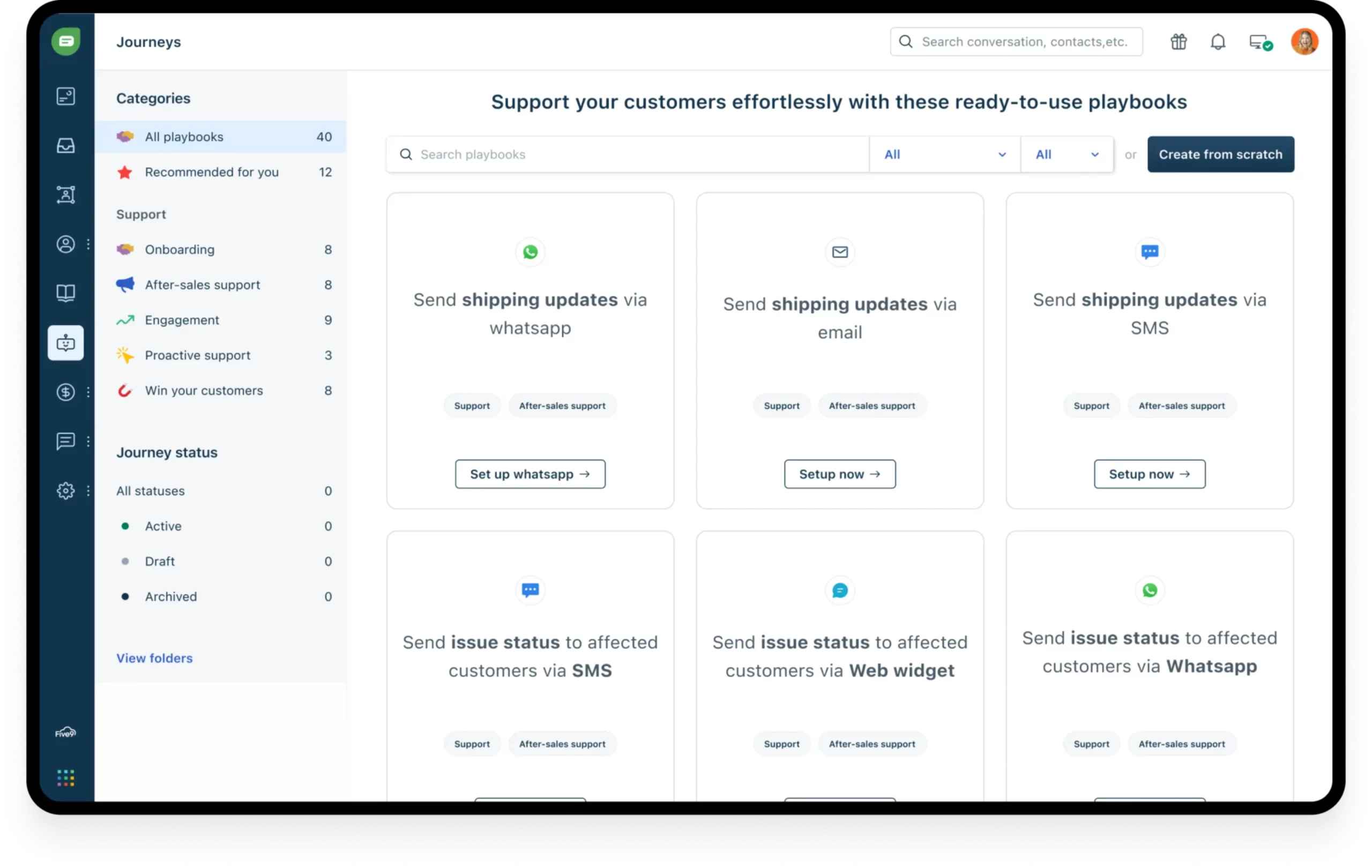 Assist customers before they even realize they need help
Proactively assist your customers, anticipating their needs on web or messaging channels. Turn every interaction with your company into a strategic revenue opportunity, providing service that exceeds expectations and building lasting bonds with your customer base.
Make informed decisions to help your business grow
Make informed choices to boost your business growth. Gain insights into customer behavior and team performance. Understand your team's productivity, the effectiveness of bots, and identify gaps for corrections. Maximize your path to success through generative artificial intelligence.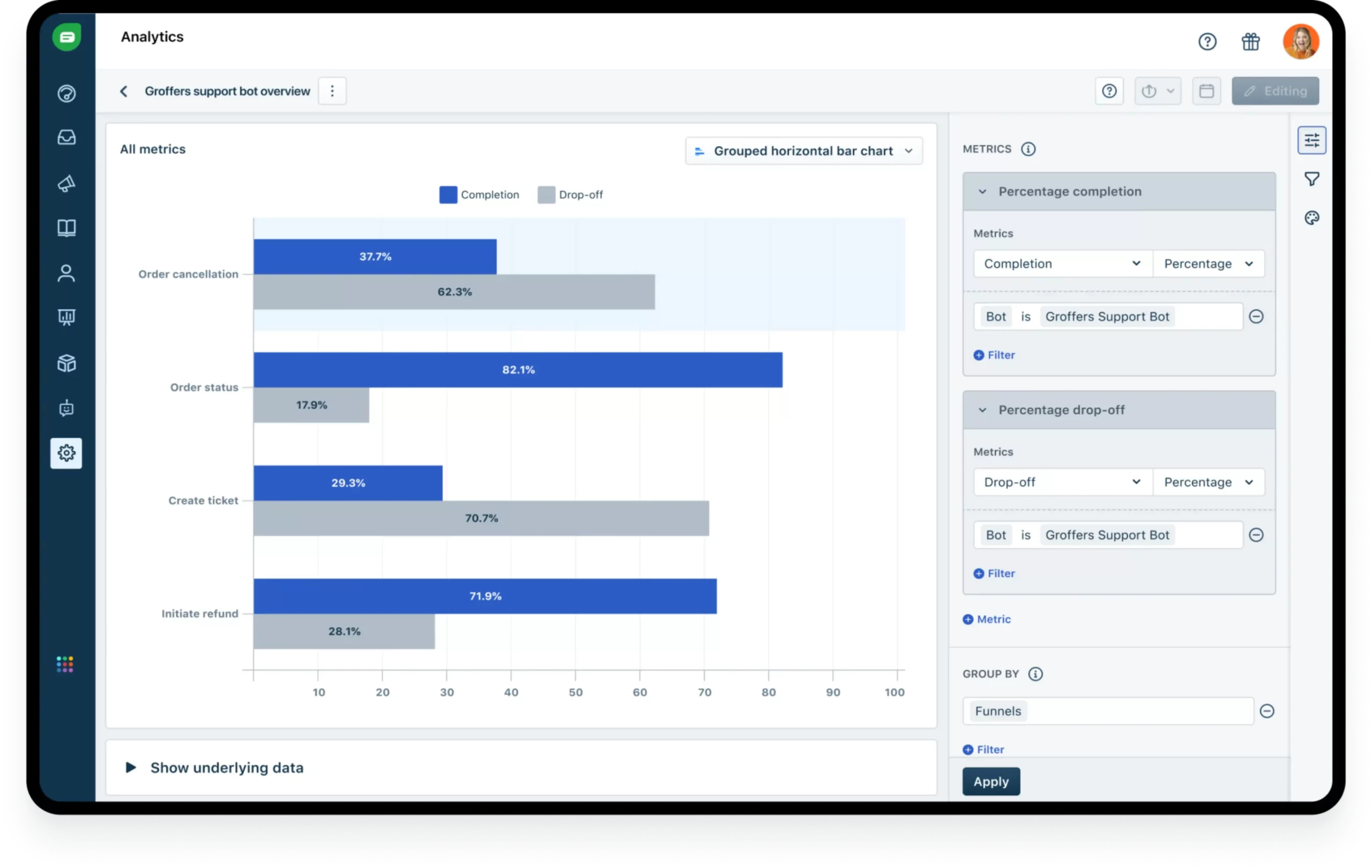 Recommended by top experts.